Tour the world's great museums also HERE!
Cooped up, bored and on a budget? Here's how to stream TV without paying a dime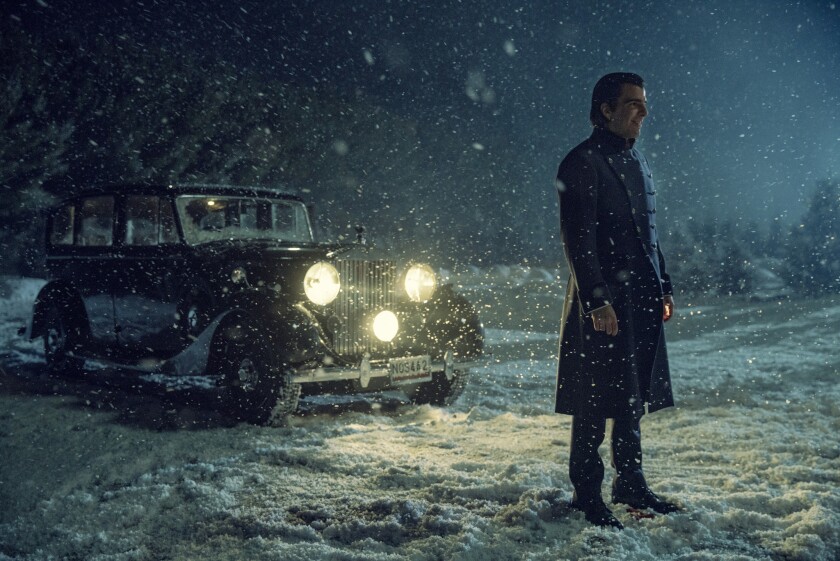 Zachary Quinto plays Charlie Manx in the series "NOS4A2," now streaming on Shudder.
(Zach Dilgard / AMC)
The reality is starting to set in: Coronavirus has a lot of people stuck at home. Sports are shut down. Some people are temporarily out of work or might be soon. Budgets for luxuries — like premium TV —are tightening.
It turns out that if you string together various streamers' current free-trial offers just right, you can have a pandemic's worth of entertainment without paying a dime.
Some smaller streaming services are offering extended free-trial periods during the coronavirus crisis:
Acorn TV has extended its usual seven-day free trial to 30 days for new subscribers with the promo code FREE30. The streamer features British, Australian and Canadian television shows, foreign-language thrillers and more. After the trial it's $5.99 a month or $59.99 for the year.
Sundance Now is extending its seven-day free trial to 30 days for new customers with the promo code SUNDANCENOW30. The streamer features true-crime series, original dramas and exclusive thrillers. After the trial it's $6.99 monthly or $4.99 a month with an annual membership.
Shudder is extending its normal seven-day free trial to 30 days with the promo code SHUTIN. The streamer features horror movies and shows, plus thrillers and suspense. After the trial it's $4.99 a month or $47.88 a year.
Tubi is a free streamer that gets content from more than 200 partners, including Paramount, Lionsgate and MGM. The catch: It's ad-supported. But — it's free.
Crunchyroll offers a 14-day free trial of its premium, ad-free, HD incarnation. The streamer features anime and Japanese programming. After the trial it's $7.99 a month, $22.99 for three months or $79.99 for a year.
Pluto TV is another free streamer that's supported by ads. It offers live TV and movies and TV series on demand. Check out the half-dozen James Bond features.
PBS is streaming Ken Burns' four-part film "Baseball" for free on pbs.org and all PBS streaming services. It's almost eight hours of sports-related content, folks.
SCROLL DOWN
Many Links Below – Become Informed!
Feel Free To Pass On Any Posts
– Pen
Pensamiento Peligroso writes the truth as he sees it, and if it upsets you, then it makes you think!
www.touchstoneconnect.com Subscribe for free – no ads!
THERE ARE  25 LINKS AT THE BOTTOM OF THIS PAGE ON THE RIGHT SIDE – OTHER REPUTABLE SITES FOR YOUR EDIFICATION INCLUDING G. Edward Griffin, John Stossel, Walter Williams, Zero Hedge to name a few.